This page is the brochure for your selected program. You can view the provided information for this program on this page and click on the available buttons for additional options.
LSU in Greece (Spring Intersession)
Aigina, Greece;
Athens, Greece;
Crete, Greece;
Delphi, Greece;
Nafplio, Greece;
Santorini, Greece
(Outgoing Program)
Featured
There are currently no active application cycles for this program.
| | | | |
| --- | --- | --- | --- |
| APA Program Type: | Summer Programs | APA Advisor: | Jill Clemmons |
| Language of Instruction: | English | Minimum GPA: | 2.5 |
| Housing Options: | Hostel/Hotel | Credit Type: | LSU courses & credit |
LSU in Greece 2017 |
This is the closest you will come to visiting ancient Greece!
This program focuses on ancient Greek civilization and emphasizes the importance of the literature, history, political practice, and architecture of the ancient Greeks to modern life and society.

As part of this trip, you'll get to visit archaeological digs in Aigina and the Acropolis and the Agora in Athens. You'll be inspired by the ruins and remains of Greek religious life. You'll have the opportunity to read, reflect on, and interpret ancient Greek literature.

Ancient Greece continues to have a profound effect on how we live, think, believe, and govern ourselves today. This is as close as you will ever get to life in that society!
Dates & Costs
Start Date
End Date
Program Fee
LSU Tuition & Fees
(Undergraduate, 3 hours)
May 10
May 27
$2,400
instate: $1,140
out of state: $1,939

Program Fee Includes
Housing
Breakfast daily
Ground transportation within Greece
Fieldtrips and cultural events
Health insurance
Housing:
The group will stay in hotels while traveling through Greece. You should expect to stay two students to a room. Most hotels will have laundry facilities, air conditioning, and wifi access (more details to follow). You will have breakfast at the hotel every morning.
Program Fee Does NOT Include
Airfare to/from Greece
Spending money
Tuition and Fees: You must pay tuition and fees for all courses you take through LSU. The tuition you pay is based on whether or not you are a resident of Louisiana. If you are an out of state student, you will pay out of state tuition and fees for all courses taken through LSU.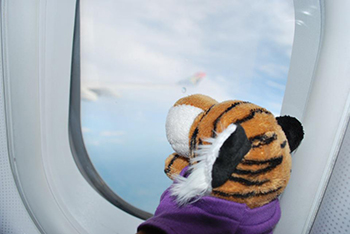 Airfare: Each student arranges his/her own airfare to/from Greece. You should not purchase airfare until told to do so by your Program Director, Dr. Anderson. Once you're told to purchase airfare, you should plan to fly into Athens on May 11 (which means you will need to fly out of the US on May 10). Your return flight should be booked out of Athens on May 27. Roundtrip airfare between the US and Greece is estimated at $1700.

Spending money: Although some meals are provided, you should plan for additional expenditures, including meals not covered by the program fee, snacks, souvenirs, and outings with friends. You should budget $60/day for food. If you plan to travel on your own during free weekends, you will also need additional spending money to cover your independent travel.
Courses
| Course | Description |
| --- | --- |
| CLST 2101* | Ancient Greek Civilization |
| CLST 3050 | Special Topics in Classical Studies |
* Can be taken for Gen Ed credit

You should choose one of the two courses offered.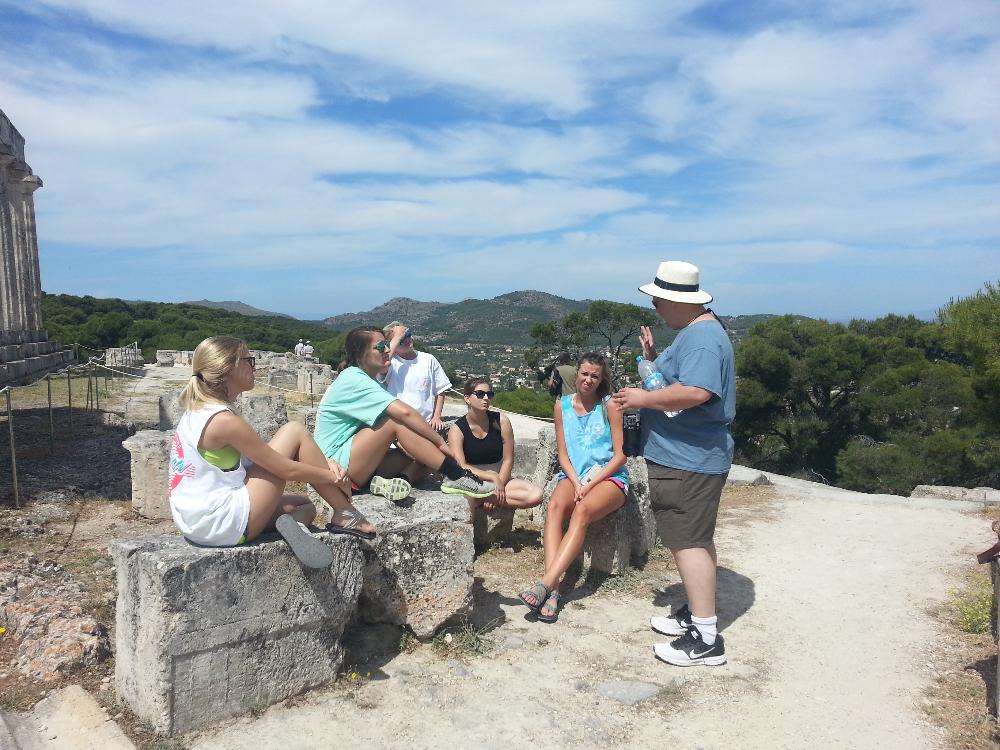 CLST 2101 (Ancient Greek Civilization) - This course will read about, discuss, and survey a uniquely profound, unusual, and influential tradition: the culture of Greece. The course aims to: (1) articulate Greece's legacy in the world we live in and (2) raise awareness and appreciation for the whole of Greek history and culture down to modern times.

CLST 3050 (Special Topics in Classical Studies) - This course will incorporate excursions to archaeological sites: Colona and Athena Aphaia on Aigina, the Acropolis and the Agora in Athens, and either Eleusis, Sunium, or Delphi (to be determined at a later date). The texts of Pausanias will help prepare the class for its experiences.


Please note: because this program ends after the deadline for spring intersession grades, all students will initially receive Incomplete ("I") grades. Those grades will be changed to the permanent letter grades in September.
Itinerary
| | |
| --- | --- |
| April 21 | Spring intersession fee bills available via myLSU |
| April 29 | 10:00am Parents' Orientation (location TBD) |
| May 3 | Spring intersession fee bills due |
| May 10 | Depart USA |
| May 11 | Arrive in Athens; check into the Backpacker Studios; night tour of the Acropolis |
| May 12 | the Acropolis |
| May 13 | Depart Athens; ferry to Aegina; check into the Drury Center |
| May 14 | Hagia Nikolaus; Palaia Chora; Temple of Athena Aphaia; afternoon at the beach |
| May 15 | Classes |
| May 16 | Evening boat cruise |
| May 17 | Depart Aegina; ferry to the mainland; flight to Crete; check into Hotel Heraklion |
| May 18 | Knossos; Vathypetros and Heraklion Museum; ferry to Santorini; check into hotel in Fira |
| May 19 | Akrotiri; Santorini culture |
| May 20 | Depart Santorini; flight to Athens; bus to Delphi |
| May 21 | Corycean Cave |
| May 22 | Depart Delphi; Bus to Korinth, Nemea, or Mycenae; check into hotel in Nafplio |
| May 23 | Nemea or Mycenae; fortress in Nafplio |
| May 24 | Depart Nafplio; travel to Epidauros; continue on to Athens and check into hotel in Plaka |
| May 25 | Museums in Athens |
| May 26 | Move to hotel near airport |
| May 27 | Program ends; fly home or travel Europe on your own |
| May 31 | Grades are available via myLSU |
Please note: this itinerary is tentative and subject to change
Eligibility & Withdrawal

In order to be eligible for the program, you must:
Have a cumulative GPA of 2.5 (undergraduate) or 3.0 (graduate students).
Be at least 18 years old by the first day of the program
Not be on disciplinary or scholastic probation
Have the prerequisites for the courses you take
NOTE: This program is open to students from all disciplines. Qualified applications from other insitutions are also welcome.
Application Deadline
March 31, 2017
Although the application deadline is March 31, you are advised to register early in order to secure a spot in the program. The program will fill on a first come, first served basis from those who meet the eligibility requirements.

Deposit: A $500 deposit will be placed on your LSU billing statement at the time that you apply to the program. Students at other universities must send in a check or money order (made payable to "Louisiana State University") for the $500 deposit along with their applications.
The $500 deposit is nonrefundable after February 3, 2017.
Payment Deadlines: the $500 deposit is put on your billing statement and is due at the time that the charge appears. The rest of the program fee (minus the $500 deposit) and the tuition/fees for the courses will appear on your spring intersession fee bill. Those fee bills are available via myLSU on April 21 and are due on May 3.

If you withdraw from the program: After February 3, you will be responsible for making payments on your study abroad program, even if you do not go on the program. The amount that you will owe is based on the date on which you withdraw. The withdrawal schedule is:
| Date | Withdrawal Costs |
| --- | --- |
| Withdrawal after February 3, 2017 | $500 deposit is non-refundable |
| Withdrawal after March 3, 2017 | $500 deposit and $500 payment will be paid |
| Withdrawal after March 31, 2017 | $500 deposit and $1,000 payment will be paid |
| Withdrawal after April 21, 2017 | $500 deposit and entire program fee will be paid |
Parents:
Have questions about the study abroad process? Want to ask questions? We have a Facebook group just for parents of students going on our summer programs! Join us
here
.
Please suggest ways to improve this program.
I literally can't think of a single way to improve the program except make it longer. I think we were there for 17 days, and naturally on the 17th day I did not want to go home. I feel like we all became a family there. Just everything about the trip was perfect.
— Spring Intersession, 2015 Participant
Read what others have said about this program.